Indesit Professional Oven Cleaner Spray - 500ml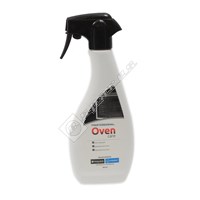 enlarge image
Will this part fit my appliance?
This product is compatible with:
Description
Professional Oven Cleaner Spray
Clean your oven with minimum fuss. Spray this grease dissolving cleaner into a cold oven and let sit for at least an hour, then simply wipe off. No scrubbing required! For tougher, caked on grease and food spills, spray and leave overnight for an even more thorough clean. There's no risk of damaging your oven's interior.
The cleaner does not contain caustic soda, and is not ammonia-based.
As an added bonus, this cleaning spray is safe to leave on overnight if you need to, as it does not produce any nasty smells or vapours. This handy cleaning spray is also suitable to clean wire shelves, inner door glasses and grill pans (Although do not use on self clean liners/ovens)
Specification:
Capacity: 500ml
To remove the deposits, scour with a tough sponge
Please note: Not suitable for ovens with self-cleaning liners.
Every house should have some ! 19 November 2015

By Linda

Truly amazing product - no scrubbing required at all - spray on leave for few hours and wipe off with a wet cloth - oven looks like new! Would rave about it to all my friends , but that would be sad!

oven cleaner 29 October 2015

By p - northants

does exactly what it says on the bottle left over night and wiped clean next day perfect

Effective product 25 October 2015

By A Swan - West Lothian

Left overnight this product did a great job of removing some serious grime that had become welded to my oven due to my slovenly habits in not cleaning the oven regularly. Only problem was the smell - when applying it has a strong ammonia smell that had me choking and gulping for air out of the kitchen window. For this reason I couldn't leave the door open while it was working, and therefore it slid down the door and the top of the glass remains dirty. However, when cleaning it off the next day with soapy water there was no problem, and I was able to use the oven immediately - no strange smell or taste in the food. Overall, I'd say this is an excellent product but I might wait for a warm sunny day next time so I can leave the oven door and the window open.