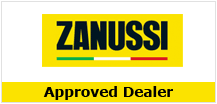 Find

Zanussi

parts, and make the most out of your appliance.

For over 100 years, Zanussi have been producing high quality appliances which are designed to stand the test of time, but on occasion some appliances can develop faults.

To help you fix your Zanussi appliances yourself, we stock an extensive range of Zanussi parts and accessories including cooker elements, tumble dryer filters and washing machine door seals.

Our range of Zanussi parts are available for fast, next day UK delivery and come with our "Price Match Promise" making it cheaper and easier for you to fix your appliance yourself.