Karcher High Pressure Angled Underbody Lance for K112H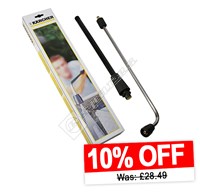 enlarge image
Fits the following models
All Karcher Domestic K1 Series Pressure Washers, Karcher Domestic K2 Series Pressure Washers, Karcher Domestic K3 Series Pressure Washers, Karcher Domestic K4 Series Pressure Washers, Karcher Domestic K5 Series Pressure Washers, Karcher Domestic K6 Series Pressure Washers, Karcher Domestic K7 Series Pressure Washers and Karcher Domestic KB Series Pressure Washers.
Description
Clean hard-to-reach spots like roof guttering and under the wheel arches of cars with this angled extension lance for your pressure washer. The head has a 90° bend for easy access to corners and crannies without having to contort yourself into awkward positions.
Weight: 0.6kg
90° angled cleaning head

Compatible with all Kärcher domestic pressure washers.
Other part numbers for this item: 2.368-817.0, 26388170, 4002667331448
More product images
I used this lance the next day. 15 May 2013

By RW44 - Plymouth

I had to use this for a task I wanted to do for a year. It did this with great success, the next task is to clear out the gutters, as I will not have to climb up the ladder so high.

Another good tool from karcher 06 February 2013

By Ian - Maldon,essex

Only used it once so far but it did exactley what it said on the box ,just be carefull of the pressure when you turn it on it gives a bit of a kick.

Quick and Simple 24 January 2013

By Fin69 - Glasgow

I had previously bought the Karcher Under Chassis Cleaner, which is also a good piece of kit, but it takes time to set up, you need an even surface to use and it is a bit of a faff to keep swapping the the different attachments over. This on the other hand, takes a few seconds to connect, and apart from not having the wax and shampoo facility does a really good job of keeping the wheel arches and underside clean. The only down side is that it is REALLY powerful, so you will need to keep your wits about you, unless you own a Dent Master franchise! It could also do with a protective collar around the bend as the strong water pressure pushes the lance into the ground.
Q PLEASE CONFIRM THAT USE OF THE UNDERBODY LANCE WILL NOT DAMAGE THE UNDERSIDE, WHEEL ARCHES AND TYRES ON MY CAR 1 Answer

I WILL BE USING A 100 BAR KARCHER

By 29 July 2009

-

A

The purpose of the underbody lance is to clean these parts of the car, therefore it should not damage the vehicle if it is used correctly. We also have a video demonstrating how to use this tool: http://www.youtube.com/watch?v=0U8eDxQ1HIA&feature=player_embedded

By - 03 June 2010

Q What is the assembled length of this item? 1 Answer

I have it in mind for cleaning my mothers reinforced clear plastic conservatory roof, so I need a total reach of approx 8ft.

By - Sittingbourne - 08 May 2009

A

Once assembled it is about 4 foot long, with the lance, maybe 5 foot. I guess with a good reach you might be ok!

By - Surrey - 18 June 2009

Q Cleaning painted rendering 1 Answer

My house starts to get a build up of green slime on its painted rendering over the winter. I've had a go with my old Karcher 410 in the past but the jet angle is wrong.I wondered whether an underbody lance with an extension might be better.Do the extension lances fit with the underbody? I'd like to work off the ground rather than be up a ladder. I have a T Racer, is that an option or any other ideas very welcome.

By - Kent - 27 December 2008

A

Hi Baconslicer2003 This underbody lance should be helpful for removing your slime build up; it helps reach previously 'unwashable' locations. This part comes with an extension lance, and is not recommended for use with any other extension lance as the hose would be too hard to control.

By - 05 January 2009