Karcher Pressure Washer Quick Release Clip (Clamp) for K6.50MB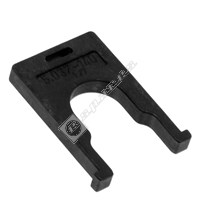 enlarge image
Fits the following models [?]
Click on your brand to see the model numbers this part fits.
Description
This clip holds the high pressure hose onto the trigger gun to ensure 100% stability when using your pressure washer.
This is a genuine Karcher part and will easily slot into place on select Karcher pressure washers. The location of this clamp in the pressure washer is illustrated in the product picture with the clip highlighted in yellow.
Other part numbers for this item: 4002667399332, 50371400
More product images

Money saver 19 May 2013

By davidtrainer - Oxfordshire

Purchasing this retaining clip for little money ensured that the expensive Karcher washer could be used as designed. Excellent service.

excellent value 24 April 2013

By Anonymous - manchester

wasn't sure whether this was the correct item but because of cheap price thought would buy and try - best idea yet!!!! it fitted perfectly and was the cheapest part I found - was really expensive on the karcher site but e-spares sold it for next to nothing. Well done - bought from e-spares loads of times and never had any problems - would try them first for any future purchases.

GREAT VALUE FOR MONEY 24 April 2013

By Anonymous - London

Having previously pruchased a replacement hose, I must have misled the clip when removing the old hose and when trying to use the new hose, it came off as soon as I turned the water on. I therefore ordered a replacement clip which arrived quickly and took seconds to fit. Great value highly recommended as as a previour reviwer has said did not meann buying a complete new handle,
Q Will this fit the K1.01 1 Answer

By - Yateley - 10 May 2009

A

Hi Carpets, I'll need your washer's seven digit production number, found on the silver plate, in order to find you the right clip.

By - 17 June 2009

Q will this fit a Karcher 440? 1 Answer

By - Coventry - 19 April 2009

A

Hi Mamajules, I'll need your washer's seven digit production number, found on the silver plate, in order to find you the right clip.

By - 17 June 2009

Q will this fit a k 2.54M 1 Answer

my brand new one just shot out of its slot whilst in use on its very first job!! It had lost part of one leg.

By 21 March 2009

-

A

Hi Harrisa, the clip for the K2.54M is this one: http://www.espares.co.uk/part/pressure-washers/karcher/p/1315/877/0/0/538019/clamp.html

By - 23 March 2009