1700 Watt Fan Oven Element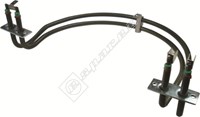 enlarge image
Fits the following models [?]
Click on your brand to see the model numbers this part fits.
Description
Oven not warming up as well as it used to? It's likely to be a problem with your element.
1700 watss
2 turn
Length: 160mm
Width: 200mm
Bracket: 45mm
Tags: 15mm
This replacement fan oven element is compatible with select models of Bosch, Neff and Siemens ovens.
Other part numbers for this item: 494643, BS14107, ES1019705
More product images
Excellent replacement 15 May 2013

By Anonymous

Very quick delivery. Well packed. Great quality. Recommended

Replacement Element 15 May 2013

By Anonymous - Sussex

My previous elements have blown very quickly & I always seem to be replacing them. I have previously bought them from a local supplier for more than double the price of these. This element has not yet been in place long (2 weeks) so I can't yet confirm how well made it is but at half the price of the others, it must be better value. As easy to fit as the others. Well packaged & delivered promptly. Fingers crossed for longevity!

value for money 08 May 2013

By bud - portadown

very pleased with product last time i paid double the money for same product would recommend espares
Q Siemens oven element 2 Answers

I had my oven element changed a year ago by a local chap. it has now gone again, so im trying to replace a new one bought from yourselves, saving money on the fix it man. I followed everything to the part of unscrewing the element. There is a screw at the top, behind the fan. The fan does not allow for this screw to be removed without removing the fan, how do I do this, the fan spins and the nut is solid. Help

By 10 March 2010

-

A

Squirt it with wd40 - leave it for at least 30 mins then have another go - remember that the nut turns the opposite way to normal!

By - Ripon - 16 March 2010

A

Hi Jackief, great to hear you've decided to fix your element yourself! We have a How-To video on fitting an oven element which you can view here: http://www.espares.co.uk/advice/cookers-and-hobs/a/1/1140/how-to-replace-a-fan-oven-element.html The cooker in the video is a different brand, but you can use similar techniques fitting yours to what's shown in the video.

By - 11 March 2010

Q British Gas fitted a new element to my NEFF Ui721 oven. The oven heats up but when you cook a joint it can't get up to temperature. Poor quality compatible element do you think? 1 Answer

By - North Yorkshire - 18 March 2012

A

Yes sounds like it , if british gas supplied and fitted the element get them back out most parts have a 3 month guarantee. Also if your paying for it tell them like for like wont do ! you want the exact element fitting .

By - Stoke on Trent - 22 March 2012