Universal Fridge "Plexiglass" Shelf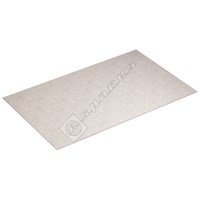 enlarge image
Will this part fit my appliance?
This product is compatible with:
Description
Universal Fridge Plexiglass Shelf
Can't find the right fridge shelf for your model? This could be the spare for you. This is a universal spare is made out of plexiglass - so you can cut it to size yourself. If your current shelf has shattered or cracked, it is best to have it replaced, because it will be unsafe to use and store your items on - and over time it will only become weaker.
To cut this glass, use a saw and then remove the sharp edges by using a file or sandpaper.
The important thing is to take note of its size (shown in specification area below), as this will help determine whether this particular shelf is suitable for your fridge.
Specification:
Size: 550 x 480cm x 5mm
Cut to size
Compatible spare part suitable for most refrigerators.
PLEASE NOTE: Prior to purchase of this item please check the dimensions to make sure this is the same size or slightly larger than your original shelf
Does the job well 15 January 2016

By Sue - Darlington

It took me a little while to cut it to size - I used my jigsaw and it melted itself back together again but was still fairly easy to cut. It fits nicely now though and has improved the organisation of my fridge.

Need Tools to cut ! 13 January 2016

By MF - lanark

great to get but a bit of a hassle getting it cut as you really need the proper tools to do it without breaking it. Maybe next time i would order what i need from a cut to size company or just buy the actual genuine replacement.

Not the easiest to fit 22 December 2015

By DE - Holmfirth

This product came with no cutting instructions and on using a jig saw to cut, the heat of the blade resealed the cut therefore having to cut again and snap to break. This left the product with a messy edge!