Universal Fridge "Plexiglass" Shelf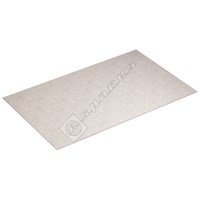 enlarge image
Will this part fit my appliance?
This product is compatible with:
Description
Universal Fridge Plexiglass Shelf
Can't find the right fridge shelf for your model? This could be the spare for you. This is a universal spare is made out of plexiglass - so you can cut it to size yourself. If your current shelf has shattered or cracked, it is best to have it replaced, because it will be unsafe to use and store your items on - and over time it will only become weaker.
To cut this glass, use a saw and then remove the sharp edges by using a file or sandpaper.
The important thing is to take note of its size (shown in specification area below), as this will help determine whether this particular shelf is suitable for your fridge.
Specification:
Size: 550mm x 480mm x 5mm
Cut to size
Compatible spare part suitable for most refrigerators.
PLEASE NOTE: Prior to purchase of this item please check the dimensions to make sure this is the same size or slightly larger than your original shelf as it can be cut down.
plexiglass 23 May 2016

By doreen - bungay area

Does the job, but as we have always had a metal rack in caravan (which was going rusty and needed replacing), the fact that the plexi glass is a bit 'flexible' and has give in it takes a bit of getting used to, but it does the job well, also extremely pleased with speed of delivery as we were told it would be 3/4 days and it arrived within 2

Plexiglass shelf 19 May 2016

By MSF - Surbiton

Arrived quickly. Not easy to cut; requires a saw to cut. Replaces glass panels in chiller cover for Daewoo Fridge/freezer.

OK, but not great! 19 May 2016

By Jerry Wood - Bloxham

Arrived on time, a little tricky to cut but OK if you go steady and at a shallow angle. Not as strong as the standard glass shelf, so it bends in the middle if loaded as you would usually load a fridge shelf. However the price for 2 shelves is WAY cheaper than the price for one if you buy a replacement glass shelf from the fridge manufacturer! With hindsight must remember NOT to turn the fridge temperature down to extra low in order to cool lager for friends visiting. It made a can of coke explode very dramatically shattering the glass shelf and causing immense damage / mess with tiny pieces of glass absolutely everywhere in the fridge!