Homecare Bar Keepers Friend
Stock Number: ES1555452
Manufactured by Homecare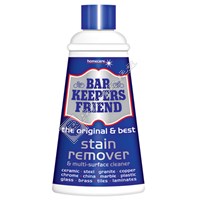 enlarge image
Will this part fit my appliance?
Description
If you find the number of specialised cleaners a bit overwhelming, maybe you'd be happier with one cleaner and stain remover you can trust? Bar Keepers Friend will clean just about everything - including the kitchen sink.
It keeps kitchen and bathroom surfaces clean and shiny, and removes tough stains. It doesn't contain any bleach either. Bar Keepers removes rust and limescale build-up, cleans and shines porcelain, stainless steel, chrome, copper and brass. It cleans fibreglass and acrylics without scratching. You can also use it to clean tough gunge stuck in tiles and grouting.
200g bottle
Not suitable for use on: gold, silver, pewter, marble, lacquered metals, or anodized aluminium