Kidde Combined Smoke and Carbon Monoxide Alarm
Stock Number: ES1540696
Manufactured by Kidde
Rated 5.0 out of 5 (3 customers)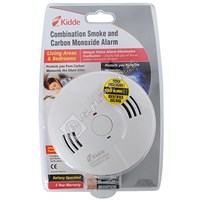 enlarge image
Description
Combined Smoke and Carbon Monoxide Alarm
Ideal for use in residential homes - but not for caravans or boats.
This Kidde smoke alarm and carbon monoxide detector will provide protection for your family and home. You might not like to think that a fire in the home could happen to you, but with this essential item you will soon know if your house is under threat - help provide peace of mind for you and your family.
Carbon monoxide is odorless, tasteless and invisible – it's a silent killer! The only safe way to know if carbon monoxide is present is to install carbon monoxide detectors (alarms) on every level of your home and in sleeping areas.
For your safety it is recommended to install optical smoke alarms too.
Specification:
Unique test/reset button that allows you to verify alarm operation
loud voice alarm warning system will tell you if smoke or carbon monoxide has been detected, eliminating any confusion whether it's a smoke or carbon monoxide (CO) danger
Low-battery indicator, where a built-in voice announces low battery
Extra sensitive carbon monoxide detection with state of the art electrochemical technology
Ionisation alarms are quicker at detecting fast flaming fires, giving you a faster response time to the alarm
Ionisation smoke alarms are for use where a fast flaming fire (for example electrical equipment igniting) is more likely to be a hazard than a slow smouldering one, such as from furniture and bedding
Red LED flashes for battery replacement
This Kidde smoke and carbon monoxide alarm comes as an easy-to-install kit with instructions included
Do not install in kitchens, garages, boiler rooms.
CE Marked
5 Year Guarantee
Box Contents:
1 x Alarm unit
3 x AA batteries
1 x Fixing kit (2 x screws and 2 x wall plugs)
1 x User's guide
More product images
Peace of mind 25 April 2013

By bluechi - Midlands

We left our old carbon monoxide detector in our old house so when it came to looking for a new one I was pleased to see that you could get them combined with a smoke detector. I like that it tells you whether it's smoke or carbon monoxide that it's detecting. It is slightly bigger than a smoke detector and you have to screw it on to the ceiling. It's cheaper than buying in DIY stores so all in all, a good buy.
Q Why is this combined alarm unsuitable for boats? 1 Answer

Looking to protect 14 yachts.

By Paul - Hamble, Hants - 28 January 2014

A

It may be due to the fact it is 'upset' by gases left from combustion using LPG. The fact this is specifically listed by the manufacturer suggests that it is a problem and may not be able to function or may keep false tripping.

By Chris - 03 February 2014