Karcher Plastic Cleaner Plug 'n' Clean Detergent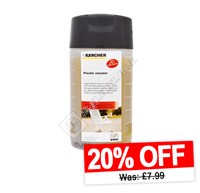 enlarge image
Fits the following models
All Karcher Domestic K3 Series Pressure Washers, Karcher Domestic K4 Series Pressure Washers, Karcher Domestic K5 Series Pressure Washers and Karcher Domestic K6 Series Pressure Washers.
Description
Clean plastic surfaces around your home and garden thoroughly but gently. This powerful detergent solution for your pressure washer is ideal for cleaning patio furniture, plastic window frames and more.
It uses the new Karcher Plug 'n' Clean system and is ideal when used with the Karcher high-pressure domestic K3-K6 series.
Instructions for use: Put the Plug 'n' Clean bottle into your pressure washer. Set the metering valve to min or max, depending on the degree of soiling. Apply the cleaner at low pressure, let it take effect, then thoroughly rinse at high pressure. Don't let it dry.
Other part numbers for this item: 62955090
More product images