Universal Space Saver Wine Bottle Holder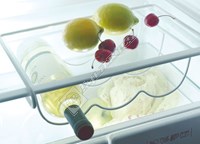 enlarge image
Fits the following models
All Fridges & Freezers.
Description
Not enough space in your fridge?
This universal bottle holder keeps your fridge organised and optimises your fridge space by utilising the unused space under your fridge shelf. It simply slots onto your existing fridge shelf to keep the bottles suspended underneath.
Holds up to 3 wine bottles
Dimensions (WxDxH): 33 x 30.5 x 11.5cm
Colour: White
Universal design ideal for most refrigerators - check the dimensions of your fridge prior to purchase.
Other part numbers for this item: 50284159006
More product images
Great space saving gadget 09 May 2013

By Meg - Co Tyrone

Delighted with product. Sturdy and practical for holding bottles.

great space saving device 27 March 2013

By Anonymous - london

bought a new fridge and it didn't have a bottle rack. the one available from Samsung (make of fridge) was very pricey and took up a whole shelf space whereas this one slides onto existing shelf and so as well as having space for 3 bottles you still have use of the shelf below. would definitely recommend.

Stores bottles! 21 March 2013

By Anonymous - Lindfield

Wife said it was really cool. I was expecting, what did you buy that for - result
Q Can it fit on plastic shelf? 5 Answers

By 19 July 2009

-

A

Yes. if shelf 'normal'

By - London - 24 May 2010

A

Don't see why not

By - Kent Coast - 02 May 2010

A

yes without any problem

By - Lanarkshire - 08 April 2010

A

no reason why not, the bars holding it reach to the back of the fridges so very sturdy

By - London - 01 March 2010

A

Could fit on plastic shelf if it's rigid. Might be too heavy for a flimsy one.

By - Somerset - 03 September 2009

Q will it hold 2 litre bottles of pop? 1 Answer

By - n wales - 13 August 2010

A

I would say not

By - Devon - 02 February 2011