Universal Outdoor Accessories Lightweight Protective Boots - Size 9
Stock Number: ES1061900
Manufactured by Universal Outdoor Accessories
Out of stock Out of stock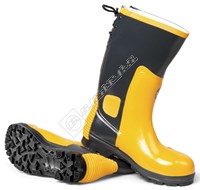 enlarge image
Description
If you're getting some DIY done in your home and garden that involves power tools, remember to protect yourself. These Lightweight Protective Boots have reinforced saw protection for work with chainsaws, and a non-slip sole to keep your feet firmly on the ground. They also include built-in ankle protection.
Size: 9
Tested and approved to EN 345-2
Also available in size 6 (ES1061896), 7 (ES1061898), 8 (ES1061899), 10 (ES1061904), 11 (ES1061905), 12 (ES1061906) and 13 (ES1061907).
This is Universal Outdoor Accessories spares reference:5310246433