How to Fit Nylon Strimmer Line
Published
Strimmer cable is sold either on a spool which you just slot into your strimmer or it's sold as the line alone which you'll then need to wind onto the base of your appliance. If your strimmer requires the line to be wound onto the base of the strimmer, here's how: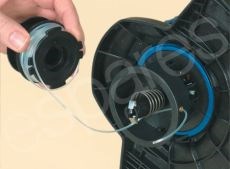 Unplug the trimmer from the mains.
Remove the bobbin and the old line.
Secure one end of the new line to the tie clip in the bobbin, then wind the rest uniformly in a clockwise direction around the bobbin.
Feed 10cm of line through the small hole in the rotating head, then push the bobbin back into its surround.
Information provided is a guide only. eSpares accepts no liability for any problems occurring whilst attempting any advice shown. If in any doubt about fixing your appliance, always contact a qualified repairer.
View all Trimmer Spare Parts Now »