Over 4 million customers served

UK based customer service team

Over 342,000 Reviews!

Rated 4.7/5

15 million parts delivered

UK next working day delivery until 9:00PM
Bosch WFO2264GB/01
The washing machine does not start at all. Could it be the carbon brushers need replaced or a faulty motor? I'm not sure if the motor does not waork when the carbon brushes are worn out. Please advise.
Answer this Question (
3 Answers

)
needed to be replaced
If the washer was working normally and then the motor stops turning but everything else looks o.k. it is probably the brushes as they do wear out. This is a good value replacement product, They are a little bit fiddley to fit. Lots of patience.
Likely to be the brushes. If the machine looks like its operating, making a clicking noise from the relay when it should be turning the drum, but the drum doesn't turn, then that's what it will most likely be. Either that or the belt has gone, but you will see that straight away when you take the back off the machine & you'd here the motor turning in that case If you take the brushes out they are approx 2" (50mm) long when new, chances are they will be about 5mm long if worn out.
Washing Machine Carbon Brush - Pack of 2 (Does Not Fit FHP Motors) Stock Number: ES1019979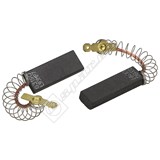 View full product details
High quality spare part suitable for select models of Bosch, Neff, Siemens and other brands of washing machines
Q&A tips & guidelines
Focus on the features or function of the product

Write your question in clear English

Be polite! Profanity won't be approved
Don't include personal info

Don't name other websites

Don't mention product prices