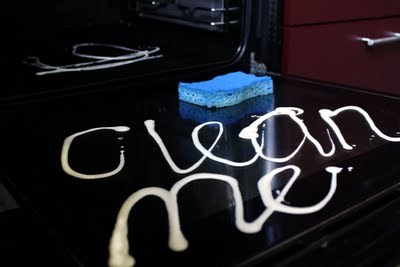 View All Cleaning Products Now »

We consider ourselves spare part experts, but we're also dab hands at cleaning tips for around the house. These 7 tips are based on questions asked by eSpares customers:
How to Clean an Automatic Coffee Machine:
Cleaning a coffee maker is all about using the right product. We recommend the Coffee Machine Cleaning Tablets made by Bosch. They come 10 tablets to a pack and can be used in both automatic coffee machines and thermos flasks to prevent limescale and coffee build-up marring the flavour of your hot beverage.
How to Clean a Washing Machine Filter:
Our video "How to Cure A smelly Washing Machine" demonstrates how to clean your machine thoroughly and keep it working properly. You should follow the advice outlined in the video once every 4 weeks.
How to Clean an Iron Soleplate:
If you need to clean residue that's burnt onto your iron, we recommend using iron cleaning pads. Remember never to clean an iron when it's hot or plugged in.
As an alternative, you can make a solution of equal parts bicarbonate soda and vinegar and wipe this solution on the soleplate using a soft cloth. Be careful to avoid the vents, so that they don't get blocked up.
How to Clean a Ceramic Glass Hob:
Over time, the glass surface of your hob may become stained with water marks and burnt on food. Fear not, our article "How To Clean a Ceramic Hob" will help you get it looking like new again.
How to Clean the Inside of an Oven Door:
Most oven doors have at least 3 to 4 sheets of insulating glass. Over time, debris and cooking grease can get trapped between these glass layers, making your oven look like it's always dirty. Our video "How To Repair an Oven Door" will show you how to take the oven door apart so that you can clean each layer of glass.
How to Clean an Electric Kettle:
Fancy a cuppa, but without the gritty limescale build-up? To get it sorted in a hurry, try an all purpose descaler once every 3 months. They can also be used on other small appliances like irons and coffee makers.
Alternatively, try filling the interior of the kettle with equal parts water and vinegar and leaving it to sit overnight. In the morning, boil the kettle and empty it of the solution. You'll need to fill the kettle with clean water, boil and empty several times to remove all traces of the vinegar solution.
To clean the exterior of your kettle, make sure to unplug it from the electricity first. Wash the exterior of both metal and plastic kettles with warm water and washing up liquid. Use a soft dry towel to dry and buff the surface when you're finished. Allow the exterior of the kettle to dry completely before using again.
How to Clean Cooker Hood Filters:
Most manufacturers recommend changing your extractor fan filters every 12 months. If the metal filter on your cooker hood is covered in grease and needs some love, try Indesit Professional Oven Cleaner Spray. It rates highly in our customer reviews, and simply needs to be sprayed on and wiped off.