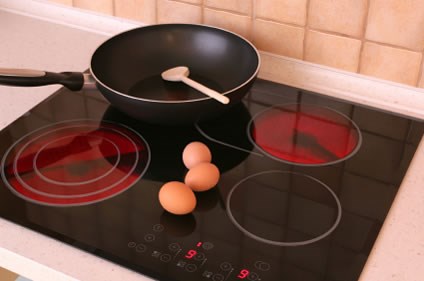 The glass top on a ceramic hob gets mucked up with burnt-on stains and spills over time. Customers often ask us how to clean it, and this article is our answer.
Be careful about the cleaners you use. We recommend avoiding abrasive cleaners such as Cif, bicarbonate of soda mixes and scouring pads for this job. Abrasive cleaners can create lots of tiny scratches in the surface of the hob.
Safety First! Please make sure your hob is switched off and completely cool before beginning any cleaning task.
Get your halogen hob clean in 2 easy steps:
Scrape off any burnt-on food using a ceramic hob scraper. Be careful when using this tool - it's very effective but also very sharp.
Remove watermarks with a specialist ceramic hob cleaner. It helps remove any remaining burnt-on food, watermarks and limescale deposits on the cooker's surface.
eSpares Top Tip: A Ceramic Hob Care and Maintenance Kit is a complete kit to get your hob in shape gets consistently positive customer feedback. It includes the ceramic hob scraper, replacement blades and a ceramic hob Cleaner, which not only clears away stains but also coats the cooker top in a thin layer of protective silicone, helping it stay cleaner for longer.