Karcher Garden Hose Trolley Kit (HT60)

Stock Number:

ES1069269

Fully assembled hose and trolley kit complete with connectors to make using and storing your hose simple

Manufactured by Karcher
Will this part fit my Appliance?
Garden Hose Trolley Kit (HT60)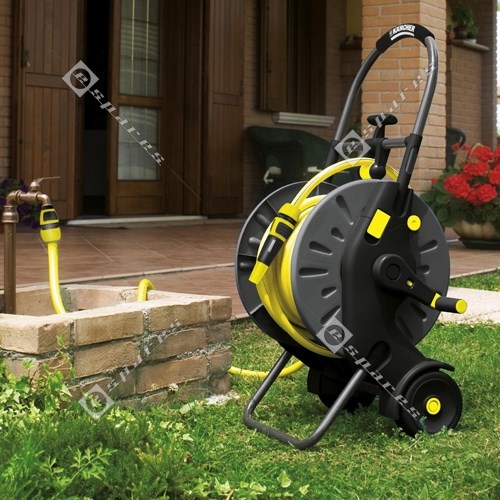 Do you hate watering the plants, having to trail your hose around the garden for it to snag on obstacles. Or even just the idea of storing a lengthy hose which will more than likely become tangled or even unravelled and look a mess? Well eSpares have this solution direct from Karcher!
The Karcher hose trolley is a fully assembled, mobile and easy to transport solution for your gardens watering and maintenance needs. A large arsenal of features makes this a must have for any gardening enthusiast. Manufactured with an accessory holder and a storage hook, you can keep your favourite accessories close at hand and stored away tidily.
The trolley comes with a 20 metre Primoflex hose along with 3 hose connectors, connected to the trolley is an angled hose connector which stops the hose kinking when it's in use. Karcher have designed the trolley to not tip over while you're watering your garden.
This kit saves you from the extra labour of dragging your hose through the garden. By folding the trolley, this allows it to be stored, once folded and the height adjustable handles have been lowered the trolley can be stored away in small areas with no worry of it looking cluttered.
This Trolley Kit offers innovative modern design features to make transporting your hose simple.
Features include:
Non-slip and ergonomic grip
Foldable handle for space saving storage
Free-wheeling hand crank for easy winding and unwinding of the hose
Powder-coated anti-corrosion steel frame
Hose guide for easy rolling up and handling of the hose
Two large wheels providing easy
mobility between applications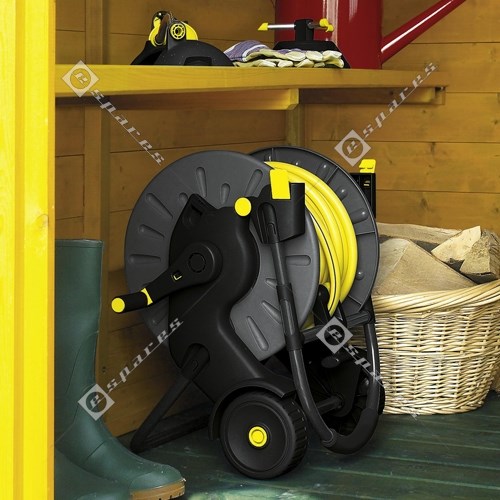 The kit also includes:
20m of high quality 1/2 inch hose
1x Spray Nozzle with Control Valve
3x Plus Universal Connectors
1x Plus Universal Connector with Aquastop
1x 3/4in Tap Adapter
Fully assembled and ready to use.
Please note: The hose reel is only large enough to hold 20m of hose.
This is Karcher spares reference: 2.645-038.0

I need a hose that will not kink
There are many different types of hose construction and therefore product performance. I bought a professional hose made by Hozelock and I am pleased with its strength and lack of kinking
Answer this question
Hello. Is it possible to have this trolley kit fitted with a 50 or 60 mtr hose and what wil be the price. Thanks Frans.
eSparesMalindi at eSpares says...

Unfortunately this trolley kit is only available with the hose provided.
Answer this question
eSparesMalindi at eSpares says...

Depending on the dimensions of your tap, this part should be able to connect to a household tap. Should the part not fit, please view these connectors: http://www.espares.co.uk/parts/watering-products/connectors/karcher/p/1451/877
Answer this question