Loisirs 15W E14 Fridge Incandescent Bulb - Warm White for RGE300 Stock Number: ES478313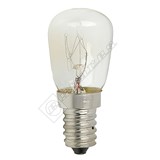 View full product details
Universal spare part for all refrigerators with the correct fittings
Answer this question
I don't know about Neff fridges, but there is one bulb in the pack. I used mine for a Whirlpool built-under fridge and it was easy to fit.
If you're replacing a 15W bulb then it should be OK.
Fit my Fridge/Freezer (SERVIS) okay, after all it is advertised as a Universal Fridge Lamp, so one would expect it to fit.
Q&A tips & guidelines
Focus on the features or function of the product
Write your question in clear English
Be polite! Profanity won't be approved
Don't include personal info
Don't name other websites
Don't mention product prices