Door seals are often made of rubber and can become perished over time. If this has happened to your door seal, or it has become otherwise damaged, then the heat will escape from your oven - costing you money on wasted energy unnecessarily.
The heat escaping from your oven can have other knock-on effects too, such as causing damage to the door itself, the control knobs, and may also stop the oven from getting up to the correct temperature.
If your oven is suffering from a seal that has seen better days, then it is important that you get it replaced as soon as possible.
If you are unsure where to start there's no need to panic. We'll talk you through how to successfully replace the door seal without damaging your oven door.
This video shows an example on how to remove or replace the part on a typical machine, some models may be different but the procedure should be similar on most ovens.
Step 1 - Safety Advice (Turn Off Your Cooker)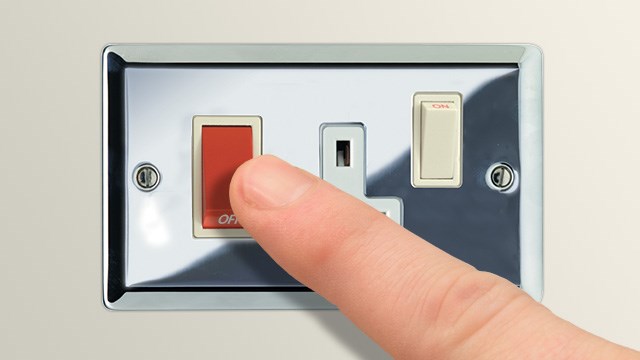 Safety First! Please make sure that you have switched your appliance off at the mains before starting your repair.
Step 2 - Remove The Old Door Seal
Firstly let's get a good look at the current seal by removing the oven door, as this will allow you to fully see the seal. Simply lock the clips on top of the hinges, and gently lift the door away from your oven.
You will see that the door seal is just hooked on with two little hooks at each corner - all you need to do is release each corner.
Step 3 - Fit The New Door Seal
Ready to fit your new door seal now? Don't worry, it really is quick and easy to do - it just fits in the same way in which your old seal came out.
First of all just make sure that your new seal is lined up correctly, and is the right way round. Proceed to fitting the top two hooks into the two holes and then stretch it into place.
Step 4 - Fit Door Back On Your Oven
All that is left to do is to fit your door back on your oven. Position the door correctly, and slot the hinges back in place.
Finally, remember to flip the clips back over and you are ready to shut your oven door.
Congratulations - you have now successfully been able to replace your oven door seal!
You can now get back to creating your tasty meals at dinner time again, in the knowledge that you have fixed the door seal all by yourself (with a little help from eSpares of course!)
Fancy Giving Your Oven A Clean Now?
If you are now in a super productive mood and you have come to realise how dirty your oven actually is, you can use a non-caustic oven cleaner to spruce it up.
Need To Locate The Correct Door Seal For Your Oven?
As well as being one of the easiest DIY appliance fixes out there, fixing your oven door seal yourself can save you a lot of money compared to booking a repair or buying a new cooker.
Here at eSpares, we have a wide-range of replacement oven door seals for you to select from - so you can soon be on your way to repairing it yourself.
If you need any other help for your appliances you can find more videos from Mat and the team at eSpares, who are always on hand with appliance repair advice in your time of need.