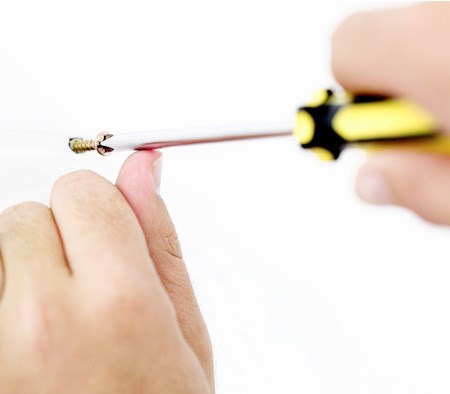 After receiving so many inspiring Fix It Yourself stories from customers during our Fix It Yourself Fridays competition, we decided that these FIY tips are too good to keep to ourselves.
General Fix It Yourself Tips:
Safety First:
Don't get in over your head. As Chrissie recommends: "If it's currently broken, having a try at fixing it will not make it any more broken than it already is. If there's lots of wires involved, think about giving in and calling an electrician - don't put yourself in danger."
Make sure to switch off and unplug appliances from the mains before working on them, and wear protective gear to keep vulnerable bits such as fingers, eyes, and ears safe.
Watch Yourself:
Many fix-it fans suggest that lighting your work with an LED torch can make life easier. If you don't have enough spare hands, tools with built-in LED lights might help.
Screw Loose?
Keep any screws, nuts, and bolts that you've removed in containers nearby to make sure you don't lose them. Adrienne suggests "putting each screw in ice cream cartons marked with their position helps."
A Picture Lasts Longer:
If you're taking an appliance apart, take pictures with a digital camera or phone as you go. That way you can view them in reverse to reassemble your appliance correctly. This is particularly useful if wires are involved.
Richard reports that he "spent a while in full white-goods paparazzi mode, taking pictures of everything so I could re-assemble it."
Post-It:
Hesitant to mark up your appliances, walls, and cupboards with pencil or pen markings while fixing it yourself? Howard has the solution, "use Post-It notes wherever you would have made a pencil mark and drill through them when you get to drilling the holes."
Maximise Brownie Points:
When you're confident that you'll be able to complete a repair yourself, make sure it sounds really complicated to everyone else involved.
David "made the job sound more difficult to get more brownie points" - might as well get the most out of your FIY know-how.
Appliance-Specific Advice:
Cooker Knobs:
If your cooker knob or button has come off, Barbara has tried and tested a thrifty fix: "rather than pay for an expensive call out, I secured the knob by placing cling film underneath it." That may help hold the button on once you reattach it.
Clogged-Up Drains:
The drains in your bath, shower, and kitchen sink can easily get clogged up and stop draining properly.
For persistent drainage problems caused by obstructions, Rebecca recommends "to poke a length of plastic covered wire down the plughole (the kind of thing you put net curtains on), wiggle it around and it usually does the job."
Garden Appliance Non-Starter:
After a long winter, sometimes your garden appliances will not start up properly because the internal parts are gummed up with old petrol.
David's got the solution: "mix the 2 stroke petrol with about 50% Wynn's petrol injector cleaner. Prime the system by pushing the priming bulb about 20 times and pull the starting cord several times to try to start it ... If it does not start leave it overnight to give the cleaner a chance to soak away those gummy deposits in the fuel system and try again next day."
Cutlery Basket:
Your dishwasher's cutlery basket sees a lot of action. Once it wears out and develops holes, Peter has a fix to avoid damage to your spray arm: "weave string, or better still a plastic tie wrap, through the areas either side of the hole ... This is a temporary fix until your replacement arrives from eSpares!"
Washing Machine Door Seal:
Washing machine door seals can be awkward to fit. Arnold was having no joy fitting his door seal, and tried "using washing-up liquid to make the seal easier to slide onto the machine. Next, we had the seal fitted in about 30 seconds (our faces still red from the initial force and a little embarrassment)."
You can also use fabric conditioner, just rub a smear into the groove that connects with the drum.
Washing Machine Drum Bearings:
Replacing your washing machine drum bearings is a tricky task. As Don relates, "they knock out a lot easier than they tap in ... To prevent damage, I grind a layer off the outside of the old bearing shell so that it goes into the bearing holder without sticking, and then I use this to tap the new bearing into place."
Alternatively, he suggests to "put the bearings in a plastic bag and then put the bag in the freezer. This contracts the bearing just sufficiently that it goes into the bearing holder easily, then when it warms up again it expands and makes a tight fit."
Power Cables:
If you've replaced faulty cables on one of your home appliances recently and the machine is still not up and running, the damaged cable may have blown a fuse. Sandy had just reconnected a repaired power cable when "hey presto... NOTHING. It then dawned that the broken wire must have blown the fuse in the plug. Quick replacement with a fuse of similar rating, and good as new."