Washing machines can quickly become clogged up with undissolved detergent, limescale and fluff from dirty laundry.
By following these simple maintenance steps regularly, you can extend the lifetime of your appliance and keep it fully operational and cleaning well.
Safety First! Please make sure your appliance is switched off before beginning any maintenance work.
After Every Use:
Leave the door slightly ajar - this prevents stale odours from forming in the machine.
Every Month:
Inspect & Clean Detergent Tray
Flush and clean the machine by putting it on a maintenance wash, using a Limescale & Detergent Remover, this will help remove the build up of limescale, detergent and dirt from internal parts of your appliance.
Every 6 Months:
Examine Inlet Hose Connections
Moving your Washing Machine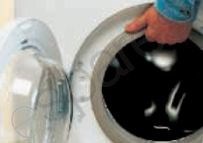 Some maintenance tasks require you to move your washing machine to access inlet hoses and other areas at the back of the machine. The door opening is the safest place to hold the machine when you want to move it.
First tilt the appliance backwards and slide a piece of hardboard underneath to protect the floor. Drag it away from the wall, making sure your fingers are wrapped around the inside edge of the shell. Take care not to dislodge the water inlet if it comes through the top of the door seal.