It is very important to clean your lawnmower after each use to prevent clogging, overheating, and to make sure your grass is cut cleanly every time.
How to Clean an Electric Hover Lawnmower:
Safety first: always unplug electric lawnmowers before repairing, and keep the mains plug beside you so no-one inadvertently reconnects the power supply. Wear safety gloves while working with blades.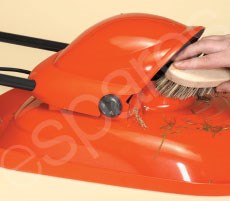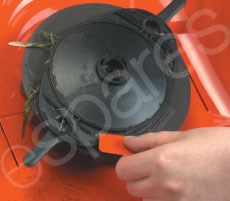 Make sure the mower is disconnected from the electric supply.
Unplug the flex and use a stiff brush to dislodge dirt and grass from the mower housing and outside of the mower.
Use a wooden kitchen spatula or plastic utensil to scrape the underside of the mower, blades and surrounding area to remove caked-on grass cuttings.
Wipe down the whole mower with a damp cloth, avoiding the switches and motor area.
IMPORTANT: Never use water for cleaning electric lawnmowers. Do not clean with chemicals, including petrol, or solvents as some can destroy critical plastic parts.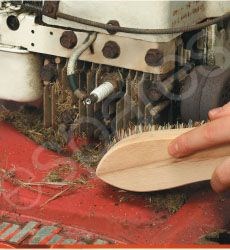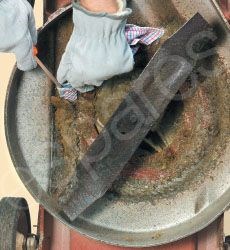 How to Clean a Petrol Lawnmower:
Safety first: before doing any maintenance on a petrol lawnmower, switch off the engine, allow it to cool and detach the spark plug cable. If not cooled, turning blades could start the engine.
Stop the engine, unplug the spark plug and allow the mower to cool.
Use a stiff brush to dislodge dried grass from the air intake, cooling fins, exhaust, oil and fuel filler caps and all cables and links.
Protect your working area against possible petrol leakage, then use a wide blade screwdriver wrapped in cloth to scrape off caked-on grass and dirt from under the mower.
Spray bare metal areas with an aerosol lubricant to protect from corrosion.
All lawnmower spares featured in this article can be purchased from the eSpares website.
The information provided in this article is as a guide only. eSpares accepts no liability for any problems experienced whilst attempting any repairs carried out. If in any doubt about repairing your appliance, always contact a qualified engineer.