If washing powder clogs your detergent tray because of insufficient water pressure or using too much detergent, clothes won't be properly cleaned. We recommend that you periodically clean this tray to keep your washing machine working efficiently, and below is advice on how to clean your washing machine.
Pull the tray or drawer out of the machine and wash with warm soapy water in the sink, rinse and allow it to dry before returning the drawer to the machine. Whilst the soap drawer is removed from your washing machine, it's a good idea to clean the interior slot it fits into, making sure to remove any soap build up with a paper towel, before wiping the area down with a warm sponge.
How to Prevent Detergent Build-Up in Your Washing Machine: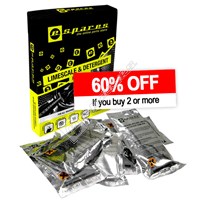 Soft water can cause a build-up of detergent residue inside your machine, which can lead to blockages, which in turn provides an environment for bacteria to thrive causing unpleasant odours. As such, we recommend you use the eSpares Limescale & Detergent Remover once a month in your washing machine to reduce the occurrence of this build-up and prolong the life of your machine.