Lawnmower blades must be well maintained and sharp to ensure that the mower keeps cutting cleanly. If your lawn looks patchy after you cut it this could be because your blade is dull and rather than cutting grass it's tearing it out. If your blade is dull or damaged in any way then it's time to replace it.
Safety first: always unplug electric mowers before repairing, and keep the mains plug beside you so no one inadvertently reconnects the power supply. Wear safety gloves while working with blades.
Metal Blades: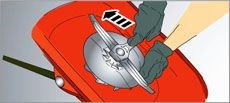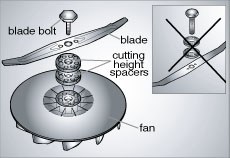 1. To remove the blade bolt and blade, hold the lawnmower fan impeller firmly and with a spanner loosen the blade bolt by turning it anti-clockwise.
2. Place your new blade onto the spacers ensuring any pegs are located in the appropriate holes on the blade.
3. Put the blade bolt through the centre hole in the blade, and tighten clockwise, first by hand, then with a Flymo spanner.
Plastic Blades: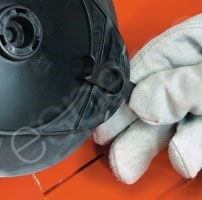 On lawnmowers with interchangeable plastic blades, push the blade upwards and inwards to remove it.
Simply slot in a replacement blade. Always wear work gloves and consult your manual for details.
All the lawnmower parts featured in this article can be purchased in the huge selection of lawnmower spares carried at eSpares.co.uk.
The information provided in this article is only meant as a guide only, and eSpares accept no liability for any problems experienced whilst attempting any appliance repair. If in any doubt about fixing your appliance, always contact a qualified engineer.