On your lawnmower, aside from the motor the most important part is the blade, and like any kind of blade over time they will become blunt. When this happens you will want to replace the existing blade and change it for a new, sharp blade.
When blunt, if you continue to cut your lawn you could end up with bald patches due to the grass being ripped out of the soil instead of it being trimmed. If you are noticing that your grass is not being cut correctly then a replacement blade will most likely be required.
If your lawnmower has metal blades, following the steps below will help you change a damaged or dulled blade safely and efficiently.
Safety first: always unplug electric mowers before repairing, and keep the mains plug beside you so no one inadvertently reconnects the power supply. Wear safety gloves while working with blades.
Step 2 - Removing the Old Blade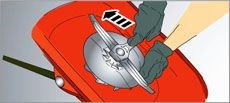 Begin by removing the blade bolt, this will loosen the blade, holding the fan impeller firmly and using a spanner you can now loosen the bolt(to loosen turn anti-clockwise).
Step 3 - Aligning the Blade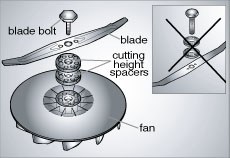 Taking your new blade, place it onto the spacers, ensure any pegs are located in the appropriate holes on the blade.
Step 4 - Securing the New Blade
With the blade in place, put the bolt through the centre hole in the blade. Once in place turning the bolt clockwise will tighten the bolt locking the blade. Tighten using your Flymo spanner.
Following the steps above will help you safely and correctly replace the blunt blade on your lawnmower.
If your lawnmower happens to have interchangeable plastic blades, replacement is simple and won't even require you to use any tools, except for perhaps a pair of gloves.
To change simple push the blade upwards and inwards to remove it, once removed you can then slot the replacement blade in place and you're done - it's that simple.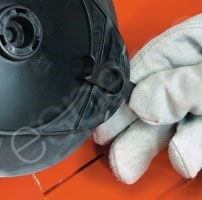 For any help on finding the lawnmower spare you need, don't forget to see our large catalogue of parts at eSpares.co.uk
The information provided in this article is only meant as a guide only, and eSpares accept no liability for any problems experienced whilst attempting any appliance repair. If in any doubt about fixing your appliance, always contact a qualified engineer.