It can work out expensive to replace an appliance should it become faulty. But spending 10 minutes once a month cleaning your dishwasher will not only get it working more efficiently - it will also help your appliance last longer.
Safety First! Please make sure your dishwasher is switched off before beginning any maintenance.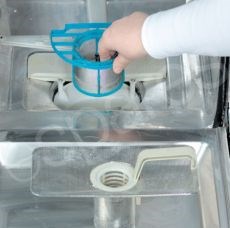 Cleaning a Dishwasher Filter:
Remove the lower basket.
Unscrew any retaining screws and lift out the filter. Some dishwashers may have two-part filters (as shown).
Wash the filter under running water using household detergent and make sure it's clear of any food debris.
Rinse thoroughly and then refit. If your dishwasher filter has developed a hole in the mesh make sure to replace it.
Cleaning Dishwasher Spray Arms:
The spray arms are held in place either by a simple clip or a locking nut.
Remove each spray arm separately to clean.
Rinse under the tap and make sure no flakes of limescale or food are blocking the holes. Over time, limescale will build up in these spray arms causing water blockage.
Use a toothpick to clear the spray holes of debris if necessary.

If your dishwasher spray arm has split over time, make sure to replace it.
Prevent Limescale Build-Up:
Limescale build-up reduces the efficiency of your dishwasher. To prevent limescale from damaging your machine, run a limescale removal treatment through your dishwasher regularly. The Limescale and Detergent Remover is an eSpares customer favourite and it includes a 10 month supply.
Replace Broken Dishwasher Parts:
While cleaning, you may have noticed that your dishwasher's basket wheels are faulty, or the cutlery basket is holier than necessary. In order to buy genuine dishwasher spares, find your dishwasher's model number - it's located on an information plate on the appliance. You can use this to ensure any spares you purchase will fit like a glove.