Steam cleaning is a popular way to clean spots and stains from carpets, flooring, furniture and upholstery.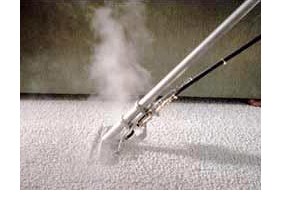 Not only is steam an effective cleaning alternative to harmful chemicals, it also helps to sanitise whilst cleaning, removing potentially harmful bacteria from your home at the same time as helping you to save time and money, whilst also being green.
How Steam Cleaners Work:
Steam cleaners use a small internal boiler or electric valve to heat water to over 200°, before generating steam. The steam is then pushed out through the steam cleaner via an attachment and onto the desired surface.
As steam is pushed out onto the surface, it works at loosening and removing grime, grease and dirt from the area. As well as cleaning, the steam also sanitises surfaces killing up to 99% of potentially harmful bacteria and germs, including mould, mildew, dust mites, bed bugs and fleas.
The micro-fibre steam cleaning cloths are placed over the cleaning attachment. They trap the steam as it comes out of the machine - this prevents the steam from dissipating into the air, so it can more efficiently clean the dirty surface.
Benefits of Steam Cleaning:
Steam cleaning is environmentally friendly – due to only requiring water and heat, you can avoid using chemicals such as ammonia or bleach, which are harmful to the environment.
Benefits to your health - cleaners that contain chemicals can leave a residue on surfaces which might be hazardous and in some cases can even cause disease. Think of small children who might be playing or crawling on the floor, as well as pets and the potential danger chemical residue left on surfaces could pose.
Steam cleaning has been proven to get rid of bed bugs, fleas and dust mites. Dust mites are second only to pollen in causing allergic reactions in humans. By eliminating dust mites you reduce your exposure to these allergens, protecting your health.
By eliminating allergies from your home, steam cleaning can also help reduce the risk of your children developing asthma, as early exposure to allergens makes kids more susceptible to the disease. By steam cleaning beds, sofas and other furniture you'll be helping to protect your family, as well as keeping your home sparkling clean.
Save Money – steam cleaning can be used throughout the home, on almost all surfaces and upholstery types, so you no longer need to buy various cleaning products.
Choosing the Right Steam Cleaner:
Whilst steam cleaners vary in shape, size and strength, there are 3 styles which are most common for use in the home. Depending on what you'll be using your steam cleaner for, will determine which type best suits you.
STEAM MOPS




Lightweight steam cleaner
Designed to be used on any smooth, hard surface such as sealed wood, tile, linoleum and laminate flooring.
Can be easily stored

HANDHELD STEAMERS


For smaller, more manageable surface areas.
Perfect for door handles, sink handles and hard to reach areas in the bathroom and kitchen.
They can also be used to get wrinkles out of clothing.

CANISTER STEAMERS




Larger canister style steamers
Can be used throughout your home.
Come with various attachments which can be used on all types of flooring and surfaces in your home.