Whirlpool Washing Machine & Dishwasher Professional Limescale and Grease Remover - Pack of 12 for ADG684/1FK (851168415571) Stock Number: ES664212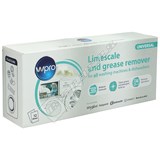 View full product details
Descaler for dishwashers and washing machines - helps prevent appliance problems and remove detergent residue
My wife always uses salt in the dishwasher and limesacale remover in the washing machine. Will this product replace both?
I always use this product for both, once a month. However, I still put salt in my dishwasher and always have done, maybe I dont need to!
Answer this question
I can't fully answer the question. The active ingredient is sulphamic acid and you would be delivering about 50g a month to your septic tank. However, Drain Doctor in Southampton are offering a WC and urinal descaler that is claimed safe with septic tanks and contains sulphamic acid. I recommend that you investigate further.
Answer this question