TCP Smart WiFi Mini Motion Sensor 720P Camera

Stock Number:

ES1782507

Capture HD footage of visitors, family members and pets anytime and anywhere using your home WiFi network

Manufactured by TCP

(This part fits select models)
TCP Smart WiFi Mini Motion Sensor 720P Camera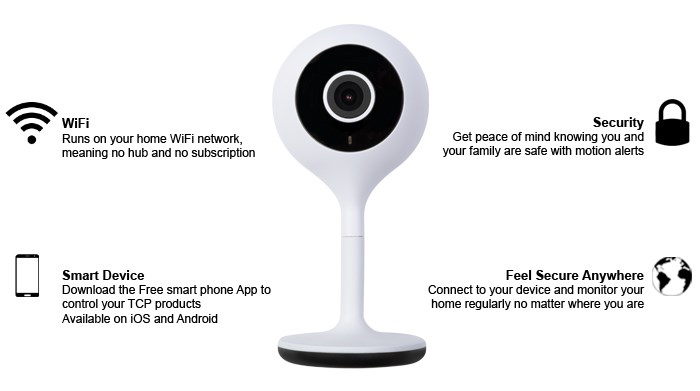 TCP Smart WiFi Mini Motion Sensor 720P Camera
Keep track of visitors, family members and pets whether you're home or not.
Easy to set up and install, this mini motion controlled camera records footage in HD and can stream it directly to your connected smart device via the free iOS and Android App. A group function allows you to control your smart product over multiple smartphones, giving everyone in the house hold control.
A built-in IR sensor activates the camera and begins recording when it detects motion. Footage is saved onto a Micro SD card (not included) which supports up to 128GB. Along with 2-way audio, you can not only hear whats going on but also respond accordingly.
TCP's Smart WiFi motion sensor camera works through your home WiFi network meaning there is no messing with smart hubs or subscriptions.
Specification:
Video Resolution: 1280*720 (720P)
6m Night vision infrared
Smart PIR sensor has low, medium & high sensitivity settings
TCPSmart App available on both iOS & Android - receive direct alerts when motion is detected
Remote connect and view live stream, record or take a photograph
Two-way audio
Records on Micro SD card up to 128GB Micro SD (not included)
Built-in motion sensor
2.6mm Lens has IR LEDs for clear video
Viewing Angle: 100°
Suitable for indoor use
Group functionality
3M Adhesive sticker - for easy siting
1m USB Lead and UK plug adaptor included
Works on 2.4ghz WiFi only
Dimensions: 53 x 32 x 110 mm
UK Plug Fitting
Colour: White
I don't currently have a memory card installed but have been recording direct to my smart phone, but when i play it back it is speeded up ie fast forward. How or what do i have to do to get it to replay at normal speed? Thanks
eSpares Staff at eSpares says...

We would suggest uninstalling it from your phone and then reinstalling it to see if it works.
Answer this question
eSpares Staff at eSpares says...

You can view the footage from anywhere in the world and at any time.
Answer this question
eSpares Staff at eSpares says...

You can have as many as you like and create a group and rename them for the different rooms, you do need a power source and are not suitable for outside.
Answer this question