Over 4 million customers served

Part assist UK call centre

Over 260,000 Reviews!

Rated 4.6/5

9.8 million parts delivered

Next day delivery until 9:00PM
Care+Protect Washing Machine/Dishwasher Cleaner & Limescale Remover

Stock Number:

ES1768995

Suitable for all brands of washing machines and dishwashers

Manufactured by Care+Protect

(This part fits select models)
Will this part fit my Appliance?
This product is compatible with:
Dishwashers
Washing Machines
Care+Protect Washing Machine/Dishwasher Cleaner & Limescale Remover
Introducing a powerful cleaning product that will be the answer to retaining the high performance from your washing machine or dishwasher. A residual build-up of dirt and detergent can occur in your washing machine when using wash programmes with low temperatures.
Over the course of time these build-ups can cause damage to not only the machine itself but also your laundry. They can also leave your appliance smelling badly too. By using one sachet of this Care+Protect cleaner, you will be helping your machine and pipework to stay free from these harmful deposits.
If you live in a hard water area, the Care+Protect cleaner will remove any limescale build-up from the more hidden and difficult-to-reach internal parts of your washing machine or dishwasher.
By simply using one sachet of this fantastic Care+Protect product, you will help ensure the long lasting performance of your appliance!
The below illustration shows the effects of the Care+Protect Limescale Remover: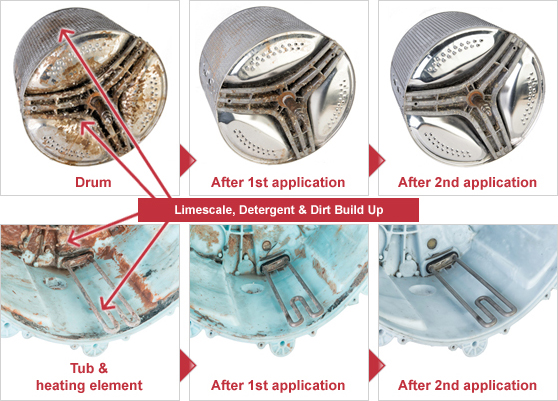 Specification:
Includes x 12 individual sachets (a one year supply)
Use one sachet a month during a maintenance wash
Removes bad smells
Removes residual detergent
Removes limescale build-up
Removes dirt build-up
Improves appliance performance
Improves energy efficiency
To download COSHH details click here
eSpares Staff at eSpares says...

We have a video to help www.youtube.com/watch?v=ifWK9df1qgg&t just copy and paste into your browser.
Answer this question
Chris at eSpares says...

Bacteria will quickly build in a machine if not aired after use and unloaded imediately after the cycle. For more information see our video: How to Clean a Smelly Washing Machine: www.espares.co.uk/advice/7/2337/how-to-cure-a-smelly-washing-machine-
Answer this question
Care+Protect Washing Machine/Dishwasher Cleaner & Limescale Remover