Privileg Washing Machine & Dishwasher Professional Limescale and Grease Remover - Pack of 12 for 00065493_21254 Stock Number: ES664212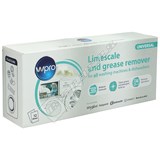 View full product details
Descaler for dishwashers and washing machines - helps prevent appliance problems and remove detergent residue
Answer this question
For instance is the Limescale and Detergent Remover the best thing or is there something more suitable.
Bleach is pretty good for removing mould growth, or a cleaning spray containing bleach. Once it's clean, as someone else suggested, try leaving the machine door & detergent drawer open between washes to allow air to circulate.
Leave the washing machine door open between uses, air circulation will help prevent mould build up. We have done so from purchase & there's no mould after 15yrs. Be aware that pets may chew the rubber seal or climb inside the machine! [Hotpoint WM63]
Have you tried "Washer Magic"? It can be used on a cloth to wipe away the nasty gunk that builds up inside the door of the machine. Pour the rest in to the detergent drawer & run it empty on a hot wash, this will clean the whole machine: element, pipes, etc. Result, a clean like-new machine. Good luck!
Try Milton steralizing sachets in an empty drum on a wool wash - it freshens up the whole washing machine without risk of any damage. These sachets are magic for soaking items or washing items with mildew on them that have inadvertently been stored damp!!

Rory at eSpares says...

Hi Cathi Unfortunately we do not stock black mould remover, however you can buy it from most supermarkets and hardware stores. This product will remove the black mould and comes with simple to follow instructions. To remove the majority of the mould you can use these e-cloths: http://www.espares.co.uk/part/cleaning-products/laundry-cleaning/p/1427/0/0/0/978618/e-cloths---set-of-2.html I would advise you to wear goggles or a mask when performing this task as the mould can give off spores which can cause and aggravate allergies and illnesses. In future, to avoid the build up of black mould, use high temperature washes (50 or 60 degrees) and use detergents that contain bleach.
Q&A tips & guidelines
Focus on the features or function of the product
Write your question in clear English
Be polite! Profanity won't be approved
Don't include personal info
Don't name other websites
Don't mention product prices