Privileg Washing Machine & Dishwasher Professional Limescale and Grease Remover - Pack of 12 for 00000976_11243 Stock Number: ES664212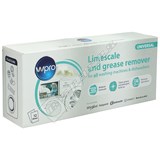 View full product details
Descaler for dishwashers and washing machines - helps prevent appliance problems and remove detergent residue
Answer this question
My fabric softener wont go into the machine - will this product help?? We live in hardwater area
This sounds as if you are left with the softener in the drawer after the wash. It should syphon out after extra water is pumped into the drawer before the final rinse. The holes that let this water in can become blocked by black mould so insufficient water comes in. If you get down low and look up at the underside of the hole where the drawer goes you should see a series of small holes - you may need a torch. Give them a poke with a small brush - a single tuft toothbrush is ideal.

Samara at eSpares says...

HI Helenpj, in addition to Rory's advice - if you haven't already: the whole drawer that your detergent and softener can probably be removed from the machine (by pushing down a tab on the top as you pull the drawer out). I would recommend removing the drawer from the machine and giving it a thorough clean in addition to the area that the drawer slots into. Sometimes if crystal detergent gets mixed with fabric softener it can gum up that dispenser area.

Rory at eSpares says...

Hi Helenpj As you live in an area with hard water limescale can build up in the pipes of your washing machine or dishwasher. We would recommend this product as it will clean out the waterworks of your appliance and allow fabric softeners and detergents to run smoothly in to the machine, leaving your clothes garden fresh!
Q&A tips & guidelines
Focus on the features or function of the product
Write your question in clear English
Be polite! Profanity won't be approved
Don't include personal info
Don't name other websites
Don't mention product prices