Universal Extendable Oven Shelf (350mm To 560mm Wide ( 320mm Depth ) Stock Number: ES655005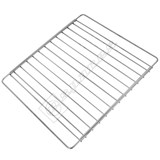 View full product details
Universal spare part for all models of ovens that match the dimensions
Answer this question
eSparesMalindi at eSpares says...

Please check the dimensions of your oven to see if this shelf will fit your appliance. The measurements for this universal extendable oven shelf are listed above: "from 350mm to 560mm and is 315mm in depth."

That will depend on the size of the oven. You will have to measure it and check if it lies between the narrowest and widest measurements given in the item description.
Q&A tips & guidelines
Focus on the features or function of the product
Write your question in clear English
Be polite! Profanity won't be approved
Don't include personal info
Don't name other websites
Don't mention product prices