Deliveries may take longer. COVID19
Universal 40W E14 Oven Bulb Stock Number: ES654987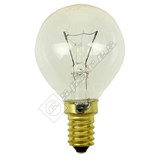 View full product details
Universal bulb that fits most cookers that require an E14 40W bulb
Answer this question
Tried all of the tips below without success. Then went into the garage and took a pair of reinforced rubber gloves (the type that are a fabric material dipped in a rubber-type solution) and it unscrewed without hardly any effort. If you haven't got any, ask a friend or neighbour that messes around with cars or motorbikes and they'll probably have a pair you might borrow.

Chris at eSpares says...

See Stock Number: ES1123508 as check the reviews of this product as it makes a great difference.

Use this device its great, it is so easy you will wonder why it didn't come with oven; Neff Lamp Cover Remover Tool it can be bought from this site, this is the link http://www.espares.co.uk/reviews/cookers-and-hobs/neff/u1721n0gb%2F02/p/1092/1126/0/654787/1123507/lamp-cover-remover-tool.html?gclid=COuPlKCR0LYCFXDMtAodMUQAMw
Put your Marigolds on and persist!

Michael at eSpares says...

Hi Crilly, We've had a lot of feedback on this issue and have since introduced a light cover removal tool. This should make the job a lot easier, see it here.

I guess this depends on the oven model. I recently replaced the bulb in our main (Neff) oven. The glass cover unscrewed though it was a little tight to shift at first. The bulb is also a screw fitting and is quite recessed in its housing. It's just possible to get enough grip on the glass to unscrew it. The whole task took a couple of minutes to complete. No tools required.
If located at the top rear right hand side you should be able to unscrew the lamp cover by turning it anti-clockwise. To prevent damage place a towel into the oven bottom. These can be really stubborn - if no good with the oven cold, try warming it up to say 70 degrees C and allow it to cool a little and while still warm try removing again. Neff's call centre suggest vinegar to help loosen it.
Q&A tips & guidelines
Focus on the features or function of the product
Write your question in clear English
Be polite! Profanity won't be approved
Don't include personal info
Don't name other websites
Don't mention product prices