Appliance Rollers for CL727WV (031272715000) Stock Number: ES486763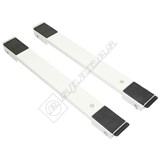 View full product details
The easy moving rollers make light work of moving heavy appliances - eg. tumble dryers, dishwashers, cookers and fridge freezers, maximum weight of 80kg
Answer this question
I have just watched the video and read information but unable to find reference to how you get/lift washing machine onto rollers to clear floor before moving. Regards, L. Charlton.
Tilt the appliance one side at a time and nudge the roller under with your foot or with assistance from any member of the household ... minimum effort, maximum efficiency move. Great product!

Chris at eSpares says...

Ideally you lower your appliance with another able bodied helper onto these rollers.
Q&A tips & guidelines
Focus on the features or function of the product
Write your question in clear English
Be polite! Profanity won't be approved
Don't include personal info
Don't name other websites
Don't mention product prices