Universal Oven Door 3-Sided Seal Kit - 1.5m Stock Number: ES486644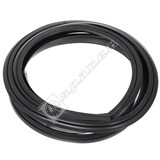 View full product details
Universal spare part suitable for most ovens
Answer this question
Sounds like your oven cooling fan is not working

Rory at eSpares says...

Hi andy1976, it sounds as if heat is escaping from the top oven, causing the control knobs to melt. A damaged door seal is the most common reason for this happening. Check out the video on this page for help fitting the door seal.
Q&A tips & guidelines
Focus on the features or function of the product
Write your question in clear English
Be polite! Profanity won't be approved
Don't include personal info
Don't name other websites
Don't mention product prices