Wellco CV100 15-Litre Ash Vacuum Cleaner Stock Number: ES1674002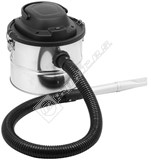 View full product details
A Robust and Durable Vacuum Cleaner for Collecting Ash and Debris - Perfect for Wood Burning Stoves and DIY Enthusiasts.
Answer this question
I bought a spare large filter (I think from this site). How do I replace the current one with it? I need to give the original a good clean with compressed air.
eSpares Staff at eSpares says...

The filter is usually pushed into place and should be in the user manual on how to replace.
Q&A tips & guidelines
Focus on the features or function of the product
Write your question in clear English
Be polite! Profanity won't be approved
Don't include personal info
Don't name other websites
Don't mention product prices