eSpares Washing Machine & Dishwasher Cleaner & Descaler Stock Number: ES1566874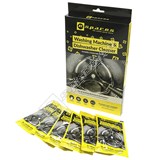 View full product details
This cleaner & descaler product removes limescale & detergent build up in washing machines & dishwashers, leaving them smelling fresh. : just in case we also have ES1641507 - Liquid Appliance Descaler, Kettles, Steam Irons Coffee Makers, Shower Heads Etc
Answer this question
Bottom blade of my Bosch dishwasher does not rotate tried dishwasher cleaner, still no joy.
Chris at eSpares says...

Re Stanley's question on dirty dishes: There can be many reasons why a dishwasher may have poor results, search our advice centre for more information as it is unlikely to be a 'fault' on the machine.

We have same problem with Bosch dishwasher. Have used Bosch descaler and cleaner regularly but still does not fully clean all dishes which we do not overload. Is it time to call out a Bosch engineer, which is costly?

Parminder at eSpares says...

The fault is usually caused by blockages or excess food residue built up in the spray arm holes. Other causes may be overloading dishes or a clogged filter or pump.
Q&A tips & guidelines
Focus on the features or function of the product
Write your question in clear English
Be polite! Profanity won't be approved
Don't include personal info
Don't name other websites
Don't mention product prices