Cut To Size Universal Fridge Plexiglass Shelf Stock Number: ES1562230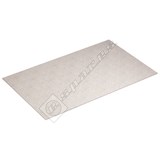 View full product details
Compatible cut to size plexiglass shelf suitable for most fridge freezers
Answer this question
(I think the earlier answer may be for a different question!!) This plexiglass is plastic rather than true glass, and the intention is for you to cut the shelf to size. Measure and mark carefully, maybe applying something you can write on, preferably to the removable plastic film ('magic tape' or labels or decorators tape etc). Use either a fine-tooth saw or a jigsaw or a water-cooled diamond-wheel tile-cutting machine, then gently smooth off the cut edges, e.g. with a sanding block. Do NOT try score-and-snap, it doesn't work well on this material. If you could cope with a width of 273.5mm rather than 285mm, you'd just get 2 shelves out of this item.

Lloyd Handahu at eSpares says...

Closely check whether the door is closing squarely to the cabinet. If not, the door hinges may be faulty. Try removing the door seal to determine whether the door closes further - if it does not this would indicate a fault with the hinges. Otherwise, you may need to replace the seal.
Q&A tips & guidelines
Focus on the features or function of the product
Write your question in clear English
Be polite! Profanity won't be approved
Don't include personal info
Don't name other websites
Don't mention product prices