Deliveries may take longer. COVID19
Zanussi Professional Microwave Cleaner - 300ml for ZM23TG Stock Number: ES1553976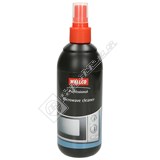 View full product details
Professional cleaner to cut through your microwave's grime and grease, inside and out
Answer this question
The inside of the oven is spotless. [Stainless steel] Believe me, I have used every one of the conventional de-odourizers! Your advice would be much appreciated.
Chris at eSpares says...

Try placing half a cup of lemon juice in the oven and microwave until boiling, allow to stand for 5 minutes then wipe out and ventilate the cavity.
Q&A tips & guidelines
Focus on the features or function of the product
Write your question in clear English
Be polite! Profanity won't be approved
Don't include personal info
Don't name other websites
Don't mention product prices