If the switch behind your control knob has become faulty or damaged, it can easily be replaced so don't worry!
The cause may be a broken spindle, but whatever the reason for the damage if you are unsure where to start there's no need to panic.
We'll talk you through how to successfully replace the function switch without damaging your oven.
This video shows an example on how to remove or replace the part on a typical machine, some models may be different but the procedure should be similar.
Step 1 - Safety Advice (Turn Off Your Cooker)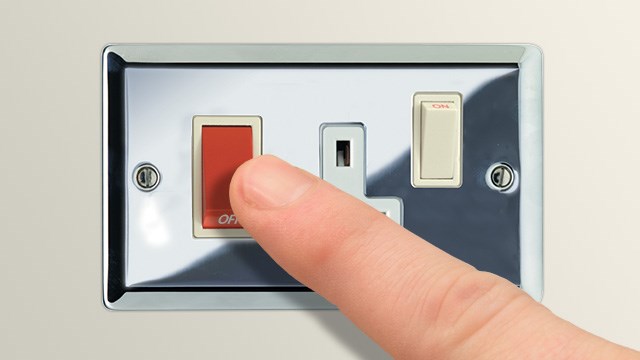 Safety First! Please make sure that you have switched your appliance off at the mains before starting your repair.
Step 2 - Remove Oven From Cavity (If Built-In)
If you have a built-in oven it needs to be removed from the cavity. To do this, simply remove the screws holding it to the cabinet and you can then lift out the oven and disconnect the power cable from the back.
Once you've got the oven in an open space and disconnected we can really begin to get to work!
Step 3 - Remove The Top Panel
If you remove the top panel (once again, there will be screws holding this into place as well) you'll need the correct screwdriver to remove these screws.
Once removed you will be able to see that elusive function switch in all its glory! You will need to remove the two screws that are holding it in place.
Step 4 - Remove The Old Switch
Oh dear - have you noticed that there are some complicated looking wires at the back, and you are wondering what to do now?
Well, it's time to give you a little eSpares Top Top for this bit - take a photo of how it is currently wired at the moment, as you will need to ensure that your new function switch is wired in the same way.
Follow this by removing the knob and undoing the front two screws.
Step 5 - Fit The New Switch
Here goes, time to get your new function switch fitted…And it couldn't be easier! All you need to do is everything that you have already done up until now - but in reverse.
Place the new switch in, put the screws back in, and fit the knob, then wire everything the same way as to how your old function switch was wired (time to look at that photo you had taken earlier).
Place the top panel back on your oven, and then finally you need to put the built-in oven back into the cavity.
Congratulations - you have now successfully been able to replace your oven function switch!
You can now get back to creating your tasty meals at dinner time again, in the knowledge that you have fixed the function switch all by yourself (with a little help from eSpares of course!).
Fancy Giving Your Oven A Clean Now?
If your cooker needs a little TLC why not clean it using our fantastic range of cleaning products from our website.