Some electric cookers control the power to the rings and the grill element with a regulator. If your regulator has failed it may heat to full power without control or not heat at all - and in either case, you will need to replace it.
If you need to replace the energy regulator but are unsure where to start, there's no need to panic. We'll talk you through how to successfully replace the energy regulator without damaging your cooker.
This video shows an example on how to remove or replace the part on a typical machine, some models may be different but the procedure should be similar.
Step 1 - Safety Advice (Turn Off Your Cooker)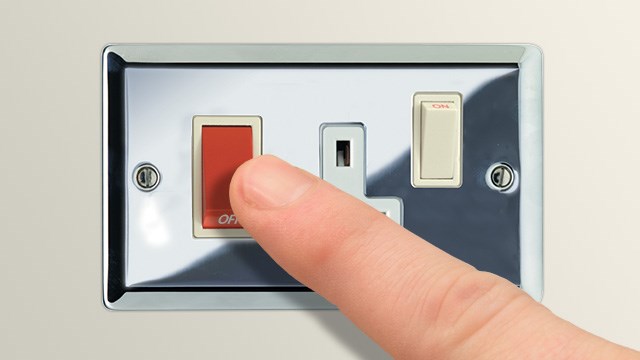 Safety First! Please make sure that you have isolated your appliance from the mains before starting your repair.
Step 2 - Remove The Top Panel
The top of the appliance needs to come off, and this is usually done by removing the screws that are holding it in place.
Depending on your particular model, there might also be some plastic rivets that also need to be removed - before you are able to lift the top off.
You can now lift the hob top away, but do be careful because there may be a warning light still attached underneath. Disconnect the warning light if fitted, and you will then be able to fully lift the hob top away.
Step 4 - Remove The Old Energy Regulator
Ok then, here we go - let's remove that regulator! To remove the regulator you first need to take off the knob that is located in front of the regulator.
You will then see the shaft of the regulator present itself. To remove the regulator you need to take out the two screws that are holding it in place - careful not to drop them in the cabinet.
Please Note: The control knob spring may be left on the regulator shaft when you removed the knob, if this is the case then this spring needs to be put back on the control knob before it gets refitted.
Step 5 - Transfer The Electrical Connections
What you need to do now is transfer the electrical connections from the old regulator onto the new one, doing so one at a time so that you know exactly where they're going.
With all the connections fitted to the new regulator you can push the shaft into position and then refit the screws.
With the regulator screwed into place, you can replace your control knob before fitting any warning light to the hob top and then re-screwing the hob top.
Well done you! All your effort has paid off now, as you have a fully working regulator thanks to your effort, and with a little help from eSpares too of course!
You can now get back to being able to make full use of your cooker once again.
Fancy Giving Your Cooker & Hob A Clean?
If your little D.I.Y task has pleased you, then why not continue to work on your cooker by giving it a good clean! If you choose to do so, eSpares can help you out with this task - as we offer a wide range of cooker and hob cleaning products.
If you really wanted to go the extra mile and treat other appliances in your home to some loving care and attention, then we offer a wide range of cleaning products across many different appliances and areas of your home - which you can view on the eSpares cleaning range.
Need To Locate The Correct Energy Regulator For Your Cooker?
Here at eSpares, we have a wide-range of replacement energy regulators for you to select from - it is an easy repair to do, and doing it yourself will save you some well-earned money compared to buying a new appliance or booking an expensive repair.