Are you trying to cook in the dark? If the lamp holder in your oven has blown and needs to be replaced, you will be pleased to know that you have come to the right place!
If you are unsure where to start there's no need to panic. We'll talk you through how to successfully replace the lamp without damaging your oven.
This video shows an example on how to remove or replace the part on a typical machine, some models may be different but the procedure should be similar.
Step 1 - Safety Advice (Turn Off Your Cooker)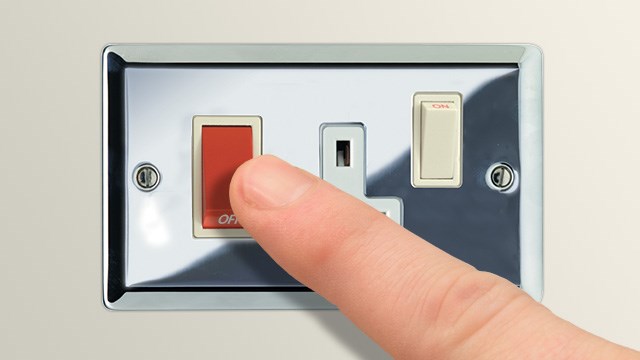 Safety First! Please make sure that you have switched your appliance off at the mains before starting your repair.
Step 2 - Remove The Rear Panel
Well, we obviously need to get to the lamp assembly....and to do this we need to remove the panel at the back of the oven by removing its screws, and then gently lifting it off the hooks that are connecting it to the cooker.
There is no need to disconnect all the wires, to make it easy on yourself you can just rest the panel against the cooker.
Step 3 - Remove The Old Lamp Assembly
Out with the old and in with the new…here goes, time for us to replace the lamp assembly now! You need to disconnect the two electrical connectors from the assembly, and then remove the assembly by using a flat-head screwdriver to push down the four spring clips that are keeping the lamp assembly in place.
Once done, you are now ready to reach inside the oven to remove the lamp assembly.
Step 4 - Fit The New Lamp Assembly
Enter the new lamp assembly! You just need to do the opposite of what you have already done - so it couldn't be easier really.
Simply push the new lamp into position until it clicks, and once firmly in place, you can then reconnect the electrical wires - followed by attaching the rear panel that you previously had to remove.
Congratulations - you have now successfully been able to replace the lamp on your oven!
Go on and pat yourself on the back in the knowledge that you have replaced the lamp assembly all by yourself, (with a little help from eSpares of course!)
Fancy Giving Your Oven A Clean Now?
If you are now in a super productive mood and you have come to realise how dirty your oven actually is, you can use an oven cleaner to spruce it up.
Need To Locate The Correct Lamp For Your Cooker?
As well as being one of the easiest DIY appliance fixes out there, fixing your oven lamp yourself can save you a lot of money compared to booking a repair or buying a new cooker.
Here at eSpares, we have a wide-range of replacement oven lamps for you to select from - so you can soon be on your way to repairing it yourself.