Have you seen our How to replace a Qualcast blade on a Classic Petrol 35s lawnmower video? In it Helen explains how to adjust your lawnmower's blade by adjusting the two screws which are situated on either side of the blade.
Safety First! Please make sure that you've switched off your appliance and disconnected it from the mains before beginning any repair.
Unfortunately those screws ARE NOT designed to adjust your lawnmower grass cutting height - but instead are to ensure that the fixed bottom blade is aligned to provide an even and level cut. The following information should be of particular interest if you have recently installed a new blade.
Adjusting the Mower Blade:
The below steps can help direct you to correctly adjust the lawnmower's black blade - which will result in a more even and clean cut of your lawn.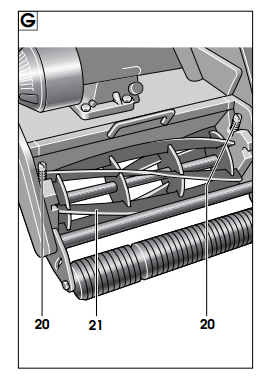 1) Begin by tilting the mower back and wedge it securely.
2) Remove the grass box cradle
3) Locating the adjuster screw(20), turn it clockwise, do this in tiny increments to ensure you can get the blade even.
4) To identify that the blades will cut evenly, the cutting cylinder should lightly brush the bottom blade across the full width as the cylinder is turned.
5) To better test the blade position, use a piece of good quality paper, and when passed over the blades the paper should cut it evenly. The Qualcast Classic Petrol 35s blade will work like a pair of shears.
6) Once you are happy with the new blade position you can now refit the grass box cradle and either store the lawn mower for the next cut or give your lawn it's needed trim.
Adjusting the Cutting Height:
At the start of the season, you'll want to have your lawnmower at its highest setting, because with it set at this setting you'll want to simply 'top' the grass. To ensure this is done correctly you'll want to adjust the height of your blade, and luckily for you this helpful guide will tell you how.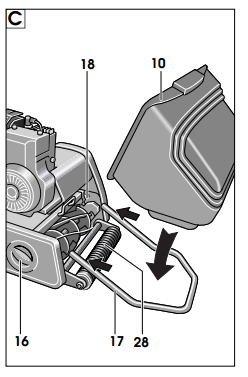 1) Begin by springing the grass box cradle(17) into the pivot holes (18). From here you can remove the grass box (10)
2) Next you'll want to tilt the mower, this will help take the weight off of the front rollers (28).
3) With the weight distributed to the front, push the height of the cut knob (16) (found on the side) and turn to desired position.
4) The Qualcast Classic Petrol 35s has five settings which can give you the below approximate height of cut:
1 = 10mm
2 = 14mm
3 = 19mm
4 = 27mm
5 = 35mm
S = Scarifier
Hopefully this guide has given you some clarity in how to easily adjust the height of your Qualcast petrol lawnmower and to fine-tune the bottom blade to ensure that your lawn is cut evenly through the Spring and Summer months.
Information and images have been sourced from the Qualcast website