We have a huge selection of lawnmower blades for most of the major manufacturers. But what do you do if your trusty lawnmower needs a sharp blade and they're no longer in production? In this guide we'll cover the basics of sharpening your existing lawnmower blade.
Safety first: before doing any maintenance on a petrol lawnmower, switch off the engine, allow it to cool and detach the spark plug cable. You should always wear work gloves when working with blades too.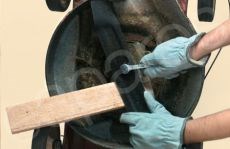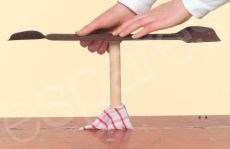 Disconnect the spark plug cable to prevent any accidental starting of the motor. Put on heavy-duty work gloves and firmly wedge the blade with a piece of wood.
Hold the blade with one hand and remove the retaining bolt, or bolts.
Check the blade and any other parts for damage. Always replace damaged parts with genuine lawnmower spares. Then clamp the blade to a worktop at its centre, and sharpen using a medium-rough flat file.
Carefully check that the blade balances using a screwdriver or broom handle as a pivot. If the blade is unbalanced, file away metal from the heavy end, avoiding the cutting edge.
When the blade is sharpened and balanced refit it, making sure the lift wing on each end points towards the mower deck, not the ground.
The information provided above should only be used as a guide and eSpares accepts no liability for any issues which occur when attempting to carry out such a repair. If in any doubt about fixing your lawnmower blade, contact a qualified engineer.