At eSpares we stock a large variety of replacement blades for your lawnmower, whether its a petrol or electric machine we, most of the time can supply you with the parts you need to get your lawnmower back up and running.
However what would you do if your trusted lawnmower needs a sharp blade and the manufacturers no longer producing them? Luckily in this guide we provide you some details on how to keep your blade sharp and balanced.
Safety first: before doing any maintenance on a petrol lawnmower, switch off the engine, allow it to cool and detach the spark plug cable. You should always wear work gloves when working with blades too.
eSpares Top Safety Tip: Wedge the blade with piece of wood, this can help prevent the blade from possibly moving, leading to accidental injury.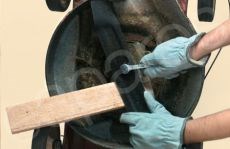 Step 2 - Securing the Blade
With the safety notice out of the way, you can now begin by first holding the blade with one hand, once secure you will now want to remove the retaining bolt (or bolts).
Step 3 - Check for Damage
With the blade removed, you'll want to check it for any damage, unfortunately if the blade is damaged then it would have to be replaced.
However we are not here to discuss replacing the blade we are looking at sharpening and rebalancing the blade.
Step 4 - Sharpen the Blade
Moving on, you will want to clamp the blade to your worktop, you'll want to ensure that its at its centre. Once in place you can begin sharpening the blade using a medium-rough flat file.
Step 5 - Balance the Blade
With the blade sharpened check that your blade balances, using a screwdriver or broom handle as a pivot. If the blade is unbalanced, file away any metal from the heavy end however be careful not to touch the cutting edge.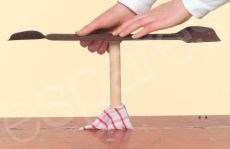 Step 6 - Fitting the Blade
Once the blade has been sharpened and is balanced you can now refit it. However make sure that the lift wing on each end, points towards the mower deck and not the ground.
Hopefully following this guide has helped you understand how simple it can be to maintain your current blade and ensure that even if new blades are no longer manufactured, you can still continue to trim your lawn.
The information provided above should only be used as a guide and eSpares accepts no liability for any issues which occur when attempting to carry out such a repair. If in any doubt about fixing your lawnmower blade, contact a qualified engineer.