If the brushbar on your Dyson handheld stick vacuum is no longer spinning or working properly, don't fret. This article will show you how to fit your Dyson with a replacement brush bar to get your vacuum running at full capacity once more.
Caring for your Dyson handheld stick vacuum brushbar
Before we show you how to remove and replace your Dyson brushbar, it's worth carrying out a couple of checks first. Sometimes a brushbar may not be spinning properly due to a blockage of hair, string or debris. In this case, the part won't need to be fully replaced. You'll simply need to remove the brushbar following the steps below, remove the blockage and put the brushbar back in place. This is worth checking before buying a new brushbar, just in case you don't actually need one.
How to tell if the brushbar on your Dyson stick vacuum needs replacing
Once you have cleared the blockage or debris from the brushbar, check to see if it is working. If it still isn't spinning correctly or you notice that the bristles have become very worn, you will need to replace it.
Before you begin your Dyson repair, make sure your vacuum is switched off and fully disconnected from the mains.
How to replace the brushbar on your Dyson handheld stick vacuum step by step
Let's get started! For help with your Dyson brushbar assembly, simply follow the how-to video or the step by step guide below.
Step 1: Remove the motorhead
To remove the motorhead, simply press down the switch at the end of the vacuum wand and pull the motorhead out.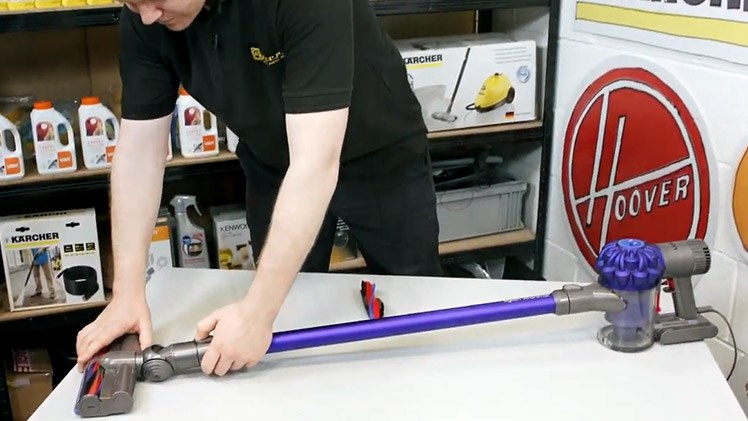 Step 2: Release the brushbar
Using a coin or a flathead screwdriver, unscrew the motorhead's cap. Then push the brushbar up and lift it out.
Step 3: Refitting the brushbar
Now that it's time to refit a new brushbar in place of the old one, you'll see that there are two different ends to the brushbar. The end without the metal pin and with a larger dip inside fits onto the rotator at the bottom of the motorhead. Simply drop the brushbar back into the motorhead the right way up and screw the cap back in.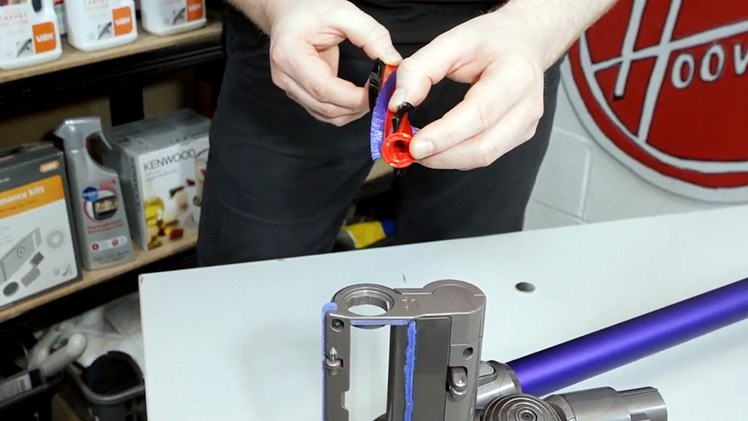 Step 4: Refitting the motorhead
Slot the motorhead back onto the wand until you hear it click into place.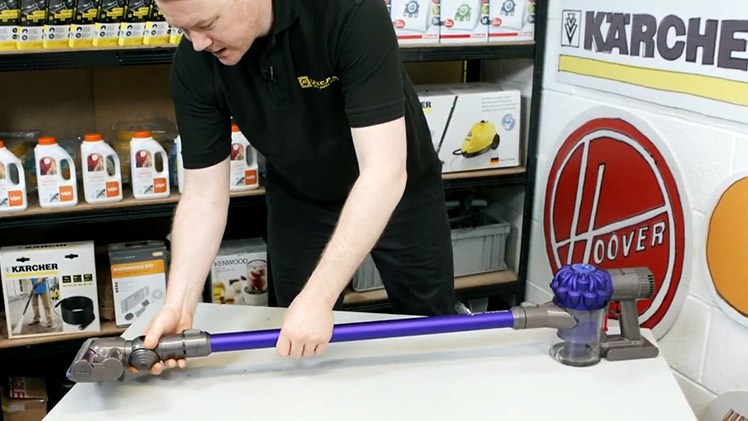 Once you have completed your repair, test your vacuum cleaner and check it is working correctly and the brushbar is spinning as it should.
And there you have it - how to replace the brushbar on a Dyson handheld stick vacuum.
Remember, if you're having any other issues with your vacuum cleaner, we could have just the answers you're looking for! Simply head on over to our Vacuum Cleaners Repair Help & Advice Centre to see our wide range of articles on vacuum cleaner fixes, care and maintenance.
You can view our full range of replacement Dyson parts here.