Fitting a new door seal to your fridge or freezer is usually very easy. If the door isn't closing correctly then you'll be wasting energy. Watch the video to see how straight-forward it is to fix the seal.
View All Fridge Freezer Door Seals Now »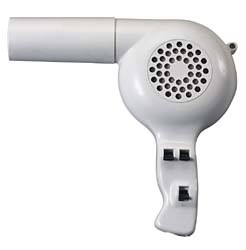 When refrigerator door gaskets arrive, they're usually packed in flat boxes by the manufacturer to make sure they don't get buckled in transit. However, this doesn't always work.
A misshapen door seal isn't necessarily bad quality - it just means that when it's fitted, it might not make full contact with the main casing of the fridge or freezer. Luckily you can easily reshape it using only a humble hair dryer.
Reshaping Your Fridge Door Seal:
Before you start, make sure that you won't need to use your fridge for a couple of hours. The seal will need time to cool down with the door closed.
Fit the door seal to your appliance. If you need advice at this stage, see our articles on replacing a fridge door seal and replacing a freezer door seal.
Gently heat the door seal with a hair dryer to make it more pliable. Work your way all around the seal until it's warmed through, and then close the door. The seal should make full contact with the main frame of the appliance.
Leave the door shut for 2 hours to allow the seal to cool and reset in the correct shape.