When finding the correct part for your machine, most of the time eSpares will require the model number (also known as the product number) - however from time to time we may also ask for a serial number too.
This article will help you to locate and identify the data plate on your mower, and on there you should find the relevant information for your machine. This will help us to find the correct parts that you need.

As an example we will use a Flymo's rating plate - this information is what will be needed when making an enquiry. Please note however that other manufacturers information may differ, but the information should be relatively be similar.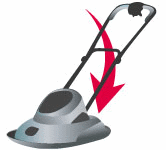 In order to find the correct blades for your mower you can normally just use the model name, located on the front of the machine. For more technical parts you may need more information from the data plate, particularly the 9 digit product number.
Depending on your lawn mower model the information plate can be located at the front, top or back of the machine, as illustrated below.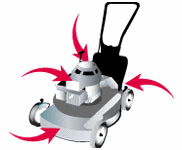 Hopefully with this information, you will be able to confidently order your next replacement lawnmower blade or other part, knowing that upon its arrival, it can be fitted and will have your machine working like new once again.
For more information on how to find your particular brand of lawnmower model information, click here to see our model number finder help page.