Your washing machine is likely to have a filter. This is designed to catch bits, small coins and other objects and try to prevent them getting to the pump. If it gets blocked, water can remain in the machine and leaks may occur.You should always check pockets prior to loading your machine as a coin can cause extensive damage and is not likely to be covered by most warranty schemes.
Safety First! Please make sure your appliance is switched off before beginning any maintenance work.
Regular cleaning of the filter can help the machine run more efficiently and keep your floors from water damage.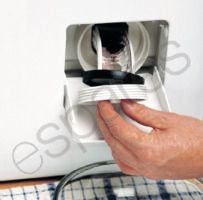 The access hatch is usually located near the front base of your washing machine. Open the hatch, undo the filter cap and pull out the filter assembly. Remove fluff and other debris. You may find that the filter is quite blocked and in this instance leave it soak then rinse and refit.