Washing machines with no lint filter have a catchpot to trap items left in pockets and other debris. If the catchpot is not emptied, their contents can be drawn into the pump.
Safety first, disconnect your washing machine from the power supply and turn off water supply before performing this procedure.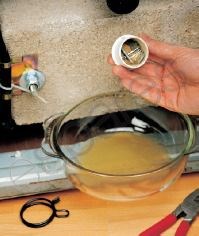 Disconnect the inlet hoses and remove the dispenser draw, then, with another person's help, carefully lay the machine on it's side, first positioning a support on the floor to provide hand space when lifting back upright. Remove the clip securing the sump hose to the drum and pull off the catchpot, empty, clean it and then refit it.