When your trusted lawnmower has given up the ghost, the fault could lie with the impeller fan, if this falters then the repair is quite simple. Once fitted with a new fan your mower will be back up and running helping you trim and maintain your lawn again throughout the remainder of the cutting season.
Safety first: always unplug electric lawnmowers before repairing, and keep the mains plug beside you so no-one inadvertently reconnects the power supply. Wear safety gloves while working with blades.
Step 2 - Removing the Blades
With the machine switched off, gently turn it over. With your safety gloves on, remove the blade height adjuster along with the blades. (for more specific instruction you should always refer to your user manual)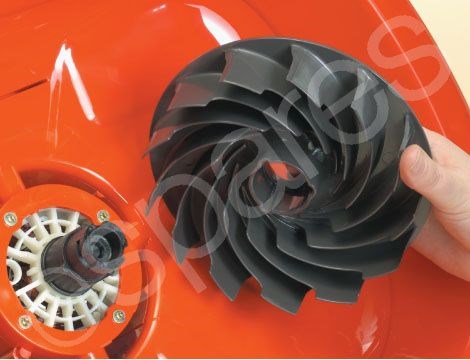 Once the blades have been removed, you can now carefully lift the fan assembly away from the body.
Step 4 - Fitting the New Fan
Now that you have removed the impeller fan you can replace it with your new one - this can be done by reversing the previous steps.
There you have it, you've just restored your lawnmower granting you once again the ability to keep your lawn trimmed through the summer months.
The information provided within this article is provided as a guide only. eSpares accepts no liability for any problems which occur whilst attempting any repair. If in doubt when carrying out the repair, contact a qualified engineer.